With over twenty years in alternative real estate investments, we hold a unique position as pioneers in the industry.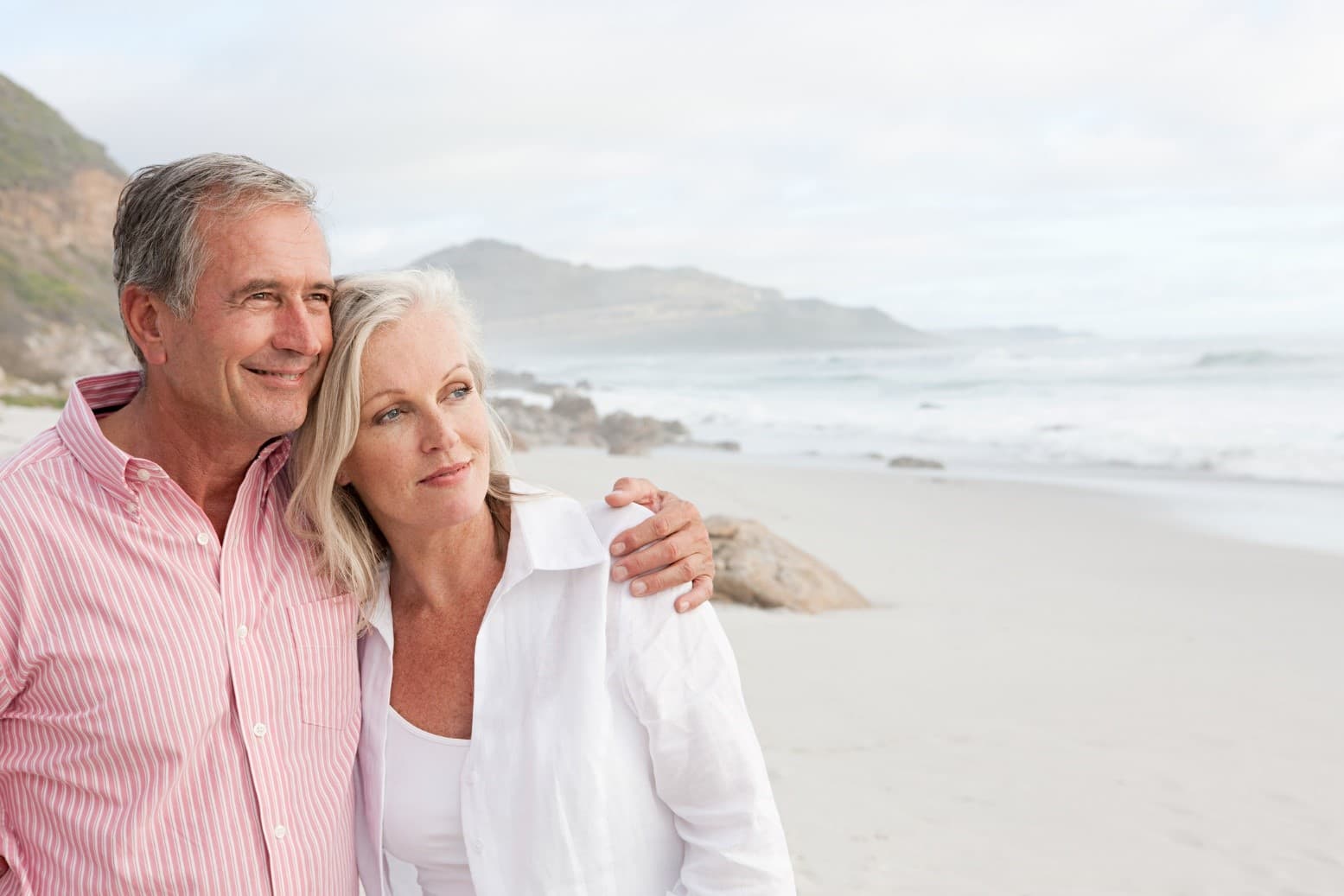 At Cornerstone, we understand the importance of shifting the focus from ourselves to you, the private real estate investor. We recognize the valuable insights you have to offer in constructing a real estate investment portfolio that aligns with your investment philosophy, life experiences, and unique goals. Our extensive experience working with accomplished clients has shown us that you have already embarked on a successful journey in your investment endeavors.
We are committed to putting you at the center of everything we do.
Your journey has provided you with experience from your career, knowledge of various geographic markets, perspectives on the impact of global warming, and investment philosophies that shape your preferences for leverage and loan amortization, among other factors.
Similarly, our own journey has equipped us with unparalleled industry experience, exceptional due diligence expertise, and a passion for tax shelter and risk diversification. We offer these valuable resources to you at no additional cost. We firmly believe that our collective experiences can create a powerful synergy in building an investment portfolio that compliments your journey toward a more prosperous and peaceful future.
We wrote the book on DSTs.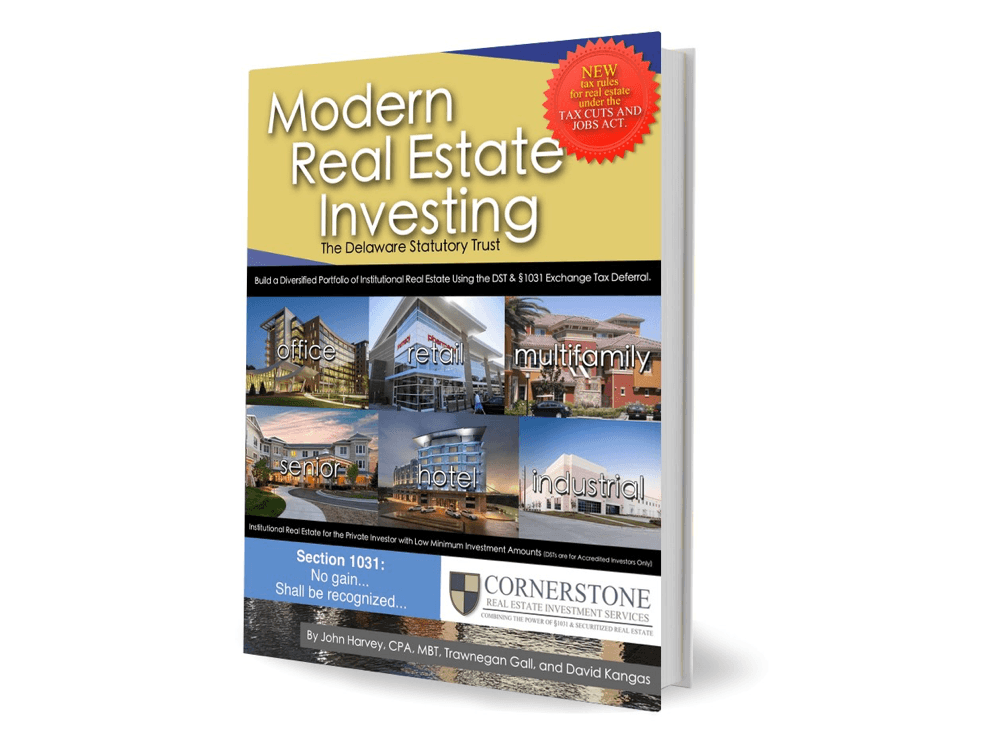 Modern Real Estate Investing introduces the nation to a new concept in real estate investment known as the Delaware Statutory Trust (DST). The DST is a synthesis of one hundred years of real estate, securities, and tax laws that provide an investment entity that allows the modern real estate investor to build a diversified portfolio of institutional grade real estate under protective securities regulations and enjoy the tax advantages of gain nonrecognition using IRC section 1031 like-kind exchanges. The book not only introduces the DST but also guides the reader through the investment process by providing perspective in the choosing of brokers, sponsors, and properties as well as a more in-depth analysis of the DST offering.
Our History
2002
In the year 2002, the inception of Cornerstone Real Estate Investment Services took place, marking its establishment as a duly registered and recognized legal entity.
2004
In 2004, Cornerstone participated in one of the pioneering industry conferences, playing a pivotal role in the establishment of the industry association that would later evolve into the renowned Alternative Real Estate Investment Securities Association (ADISA).
2005
In 2005, Cornerstone received the prestigious distinction of being awarded the inaugural Top Producer Award by OMNI Brokerage. This recognition marked the beginning of a series of accolades as Cornerstone consistently emerged as top producers, earning numerous future awards in the years to come.
2010
By the year 2010, Cornerstone achieved a significant milestone by surpassing the remarkable benchmark of 1 billion dollars in DST (Delaware Statutory Trust) and alternative real estate investments. This accomplishment solidified Cornerstone's position as a leading firm in the industry, showcasing their expertise and success in alternative real estate investments.
2012
In 2012, Cornerstone once again recevied the prestigious Top Producer Award, a testament to their exceptional performance and success. This recognition was not a one-time occurrence, as Cornerstone continued to excel in subsequent years, earning the Top Producer Award consecutively in 2013, 2014, and 2015.
These consistent accolades showcased Cornerstone's resilience and ability to thrive amidst market fluctuations, further solidifying their reputation as a reliable and top-performing firm.
2015
The year 2015 proved to be a remarkable period for the real estate market, and Cornerstone capitalized on this favorable climate by experiencing significant growth. Their expertise and contributions in the field of alternative real estate investments played a crucial role in raising economic awareness. Cornerstone's achievements did not go unnoticed, as they garnered widespread recognition and were featured on prominent media platforms such as CNBC, Fox News, and CNN. This exposure further solidified Cornerstone's reputation as a trusted authority in the industry, showcasing their ability to navigate and thrive in the dynamic real estate landscape.
2016
Cornerstone's commitment extends beyond their business operations, as they actively support the objectives and goals of each investor. In 2016, Cornerstone's President and CEO, John Harvey, demonstrated this dedication by becoming a founding member of the Museum of the Bible in Washington DC. This involvement showcased Cornerstone's passion for cultural and educational initiatives, highlighting their commitment to making a positive impact beyond their core business activities.
2017
In response to the 2017 Tax Cuts and Jobs Act (TCJA), which limited like-kind exchange treatment to real property exchanges, Cornerstone took proactive measures to protect the benefits of IRS Section 1031. Collaborating with the Federation of Exchange Accommodators (FEA), Cornerstone engaged in lobbying efforts on Capitol Hill to advocate for the preservation of this important tax provision.
As a result of these collective efforts, the final regulations clarified that real property, for the purposes of Section 1031 exchanges, encompasses not only land and structures permanently attached to it but also property classified as real property under relevant State or local laws. Furthermore, certain intangible assets, such as leaseholds or easements, were recognized as qualifying for real property treatment under Section 1031 of the tax code. This clarification provided investors with greater clarity and flexibility when engaging in like-kind exchanges, ensuring continued benefits under the revised tax regulations.
2018
In 2018, Cornerstone achieved another significant milestone by publishing their first book on DSTs (Delaware Statutory Trusts) titled "Modern Real Estate Investing." This publication aimed to provide valuable information and education to sophisticated investors interested in alternative real estate investments. However, the impact of the book extended beyond just investors, reaching sponsors, new investors, and other industry participants.
While some have attempted to emulate Cornerstone's approach, many have fallen short in terms of tax expertise, industry experience, and overall success. Cornerstone's book stood out as a trusted resource due to their extensive knowledge and track record in the field. It became an anchor of education, offering valuable insights and guidance to those seeking to navigate the complexities of alternative real estate investments.
2020
In 2020, Cornerstone took on the role of a title sponsor for Young Life, a Christian ministry dedicated to reaching out to middle school, high school, and college students worldwide. Young Life's mission revolves around building authentic friendships and introducing young people to Jesus Christ, fostering their spiritual growth and development.
By becoming a title sponsor, Cornerstone demonstrated their commitment to supporting and enhancing the mission of caring for young people and the future generation. Through their giving and active participation, Cornerstone aimed to contribute to the growth and impact of Young Life's work in nurturing the spiritual well-being of students across the United States and in numerous countries worldwide. This partnership exemplified Cornerstone's dedication to making a positive difference in the lives of young individuals and aligning their values with organizations that prioritize the well-being and spiritual development of the next generation.
2021
In 2021, Cornerstone achieved yet another remarkable milestone by successfully brokering over 2 billion dollars in DST and other alternative real estate investments. This accomplishment further solidified Cornerstone's position as a leading player in the industry, showcasing their expertise and ability to facilitate significant investment transactions. With their proven track record and commitment to excellence, Cornerstone continues to provide exceptional opportunities for investors in the dynamic world of alternative real estate investments.
2022
In 2022, with a strong market and increasing interest in alternative real estate investments, Cornerstone's expertise and reputation led to a partnership with national radio media, Salem Media. This collaboration aimed to further Cornerstone's mission of informing and educating investors about the potential benefits of alternative real estate investments.
As a result of this partnership, over 1,500 copies of Cornerstone's book, "Modern Real Estate Investing," were ordered by future alternative real estate investors. This surge in demand for the book demonstrated the growing interest and recognition of Cornerstone as a trusted source of knowledge and guidance in the industry. Through their collaboration with Salem Media, Cornerstone was able to reach a wider audience and provide valuable insights to individuals seeking to grow their prosperity peacefully through alternative real estate investments.
2023
In response to market conditions characterized by inflation and interest rate hikes, Cornerstone recognized the need for investors to explore alternative investment strategies. As a result, they published a second book focused on reallocating investments from stocks and bonds to alternative real estate investing.
This book aimed to provide valuable insights and guidance to investors seeking to diversify their portfolios and mitigate the potential risks associated with inflation and rising interest rates. By highlighting the benefits and potential returns of alternative real estate investments, Cornerstone aimed to educate investors on the potential advantages of reallocating their assets in this changing market environment.
Through this publication, Cornerstone demonstrated their commitment to providing investors with the knowledge and tools necessary to navigate market fluctuations and make informed investment decisions. By offering guidance on reallocating investments to alternative real estate, Cornerstone aimed to help investors adapt to changing market conditions and potentially enhance their investment portfolios.
;
Our unparalleled experience sets us apart, offering you unique insights and perspectives that no other firm can match.
Since its beginning in 2002, we have been intimately involved in the alternative investment securities industry. Beginning with the IRS Private Letter Ruling in 2002, we have witnessed its remarkable growth to over $8 billion in sales in 2022 and we have been there every step of the way.
Throughout this journey, we have gained invaluable knowledge about the sponsors, asset classes, and geographic locations that consistently perform well, even in the face of major economic shifts. From the challenges of the Great Recession to market expansions, the global pandemic, war in Europe, and historically high inflation, we have navigated through it all. These experiences have given us a deep understanding of which asset classes perform well and which have had challenges over various economic cycles.
We recognize the importance of aligning with sponsors who possess not only the expertise but also the genuine care to protect and grow your investment. With our insights and relationships, we are committed to presenting you with investment partners, and opportunities, that preserve your capital and provide greater return potential.
"As we made the decision to acquire our DST's, the Cornerstone rep guided us through the entire process, offering unwavering support and answering any questions that arose along the way"
—Ronald P.
The testimonial may not be representative of the experience of other clients and is not indicative of future performance.
"Despite the complexity of our inquiries, the Cornerstone Rep had no hesitation in addressing our toughest questions regarding potential risks, challenges, and the safeguards in place. Their commitment to transparency and providing comprehensive answers was truly commendable."
—Terry G.
The testimonial may not be representative of the experience of other clients and is not indicative of future performance.
"Cornerstone Real Estate Investment Services goes above and beyond to meticulously evaluate and conduct exhaustive due diligence on the real estate offerings"
—Carolyn E. Sumner, VP of National Accounts & Capital Markets
The testimonial may not be representative of the experience of other clients and is not indicative of future performance.
A solemn pledge: educate and inform every investor with customized professional services.
Leveraging our in-depth understanding of the tax code and our track record of successfully structuring over 2200 tax-free transactions, we bring forth our unparalleled expertise in capital gain deferrals, tax shelter products, and tax-free charitable giving on appreciated real estate.
Due Diligence
We take pride in being your dedicated representatives, committed to safeguarding your investment interests. At the heart of our operations lies a commitment to thorough due diligence. Our offerings undergo rigorous examination and independent testing to ensure optimal performance at every stage of your investment journey.
Our due diligence process has been meticulously crafted to ensure a comprehensive evaluation at every level – from the sponsor to the property, and the offering structure. We leave no stone unturned as we carefully assess various factors, including the sponsor's performance history, their experience in property management, and their capacity to provide exceptional client service.
To gain a deeper understanding, our due diligence team and/or firms may personally visit properties and engage in interviews with tenants, allowing us to gather valuable insights. Additionally, we thoroughly review appraisals to ensure accuracy and reliability.
When it comes to the offering structure, we conduct a meticulous analysis, considering conservative financial projections, excessive offering load and expenses, hidden tax implications, unfavorable loan provisions, and unreasonable exit strategies. Our aim is to identify any potential risks or drawbacks, ensuring that our clients are presented with the most advantageous investment opportunities.
This approach ensures that only the most promising investment opportunities make it into your portfolio and perform well over the hold period. The ultimate goal of our due diligence process is to preserve your capital, maximize your returns, and provide you with a more peaceful prosperity.
At Cornerstone, we believe in tailoring a strategic plan for risk diversification that is specifically designed for you. Our team has developed an innovative software tool that allows us to create a well-diversified alternative investment portfolio, calculating additional tax basis to help shelter cash flow from taxation, and ensure you benefit from a fully tax-deferred exchange.
We strongly advocate for spreading risk across multiple sponsors, asset classes, and geographic locations. While we have created well over 2,000 diversification plans, each one is customized to meet the unique needs of the individual investor. By taking into account your investment philosophy, life and professional experiences, tax position, geographic knowledge, and investment goals, we provide you with a strategic diversification plan that aligns perfectly with your investment goals.
Our extensive experience in the industry enables us to identify the sponsors and asset classes that consistently deliver the best results. Through rigorous due diligence, we thoroughly examine and test the properties offered within these asset classes to ensure they are well-structured and capable of performing throughout the entire investment cycle. We also value your personal insight, life experiences, and investment philosophy, using them to select the most suitable property offerings that will form the foundation of your highly personalized real estate investment portfolio.
We are excited about the potential synergies that can be created by combining our expertise with the insights gained from your own unique journey. Together, we can build a solid investment strategy that maximizes tax benefits, minimizes risk, and aligns perfectly with your financial goals.
45
DST Properties for 1031 Exchange